IBM Security Secret Server
Quickly discover, control, manage, and protect privileged accounts within your organization and store credentials confidently in a secure password vault.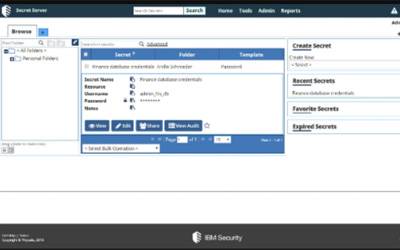 Simple Privileged Access Management
With IBM Secret Server you'll be able to secure passwords, protect endpoints and control access.
Privileged Account Management for Dummies

This book gives IT professionals a practical understanding of privileged account management (PAM). It describes what privileged accounts are, where they reside throughout an IT environment, and how they function. Most importantly, this book explains the risks associated with these accounts and how to best protect them from hackers and malicious insider threats.

This book will help you:
Grasp the fundamentals of privileged account management (PAM)

Develop strategies for building a PAM solution

Learn the top ways to protect your organization's most critical accounts
IBM Security Secret Server Data Sheet
Highlights:
Fast, easy installation for rapid return on investment

Assures multiple layers of built-in security with easy access management for IT admins, robust segregation of role-based duties and military-grade AES 256-bit encryption

Easy scalability across the global enterprise with extensible, customizable controls
Read the data sheet
Copyright © 2020. All rights reserved.
IBM, the IBM logo, ibm.com, and the IBM Business Partner Emblem are trademarks or registered trademarks of International Business Machines Corporation in the United States, other countries, or both. A current list of IBM trademarks is available on the Web at "Copyright and trademark information" at www.ibm.com/legal/copytrade.shtml. Other company, product and service names may be trademarks or service marks of others. The IBM product and/or services described herein are provided by an IBM Business Partner who is an independent reseller/dealer. The fulfillment of any conditions or offers described herein are the sole responsibility of the IBM Business Partner. IBM is not responsible for the actions or performance of IBM Business Partners. IBM Business Partner special offers, products and prices may be withdrawn or modified at any time without prior notice.